1 in 5 teens are Christians — church buildings are in fashion!
"THE CHURCH IS THE PEOPLE NOT THE BUILDING!!!"
… how many time have you heard that, said that, or taught that?
I don't know how many times I have heard it but it seems that the BUILDING (whatever we think about it) is the reason young people are coming to know Jesus.
According to a recent survey 21% of young people aged 11–18 describe themselves as active Christians (much higher than previous estimates). And 1 in 6 young people cite the church building as the main reason they became a Christian – rather than say attending a youth group or even talking with Christians . The study, commissioned by Christian youth organisation Hope Revolution Partnership, suggests that levels of Christianity are much higher among young people than previously thought.
Of course this doesn't mean all our problems go away; it is, however, welcome and surprising news.
But it also raises a question.…
What does your building say about who you are as a church? Could people take an interest in the Gospel because of your building? This is especially relevant if you have community groups using your church facilities.
Some of our church traditions (mine included) downplay "images" and our buildings themselves can be uninspiring. Several of our denominations that emerged from the reformation lead to the eradication of almost all decorative architecture, images, candles etc in our churches, except perhaps for the cross in the worship area which somehow survived. I wonder if that might have been an over-reaction?
Might we may have thrown out a crèche full of babies along with a jug full of bath water?
There is a resurgence of interest in things ancient and visual with for example more churches offering 1662 traditional services, a significant rise in people attending cathedral services and renewed enthusiasm in Celtic Christianity (via organisation such as Northumbria Community).
Of course there's probably not much you can do about your building structurally but there may be things you can do internally in terms of murals, paintings, or other high quality art commissioned and designed. Art that suggests something "other" in a context of the everyday.
Take a look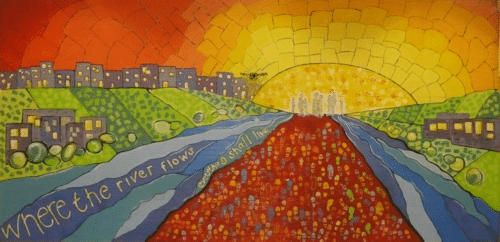 The superb wall mural at Brownley Green Baptist Church in Wythenshawe Manchester was designed and painted by the church community.
This article was also published by the Baptist Times