About
A discipleship blog for Christian men and women
What is your Christian response to stories in the media? How do you engage with the spirit of our age and at the same time grow in faith and maturity? I am a blogger and pastor and my aim is to help you do exactly that – to think through issues of faith and culture, to encourage and challenge you to live well as a Christian.. Chris Goswami
Discipleship, in bite-sized chunks. 7minutes.net is a Christian blog set out in a magazine style (short articles and lots of pictures!) to help you scan and choose topics that interest you.
7minutes is divided into three
The 7Minute Blog makes you think.

... Original articles on topics such as growing in our faith, the Bible, New Atheism, and suffering, and community trends like consumerism and impacts of technology. Trying to make sense of big questions, trying to live well as a Christian.
The 7minute Audio is relaxing! Encouraging, thought prov

oking but easy listening! Presenting truth using short stories and anecdotes. You will find stories of Jesus, hope guidance, heaven and hell and more. Based on original podcasts made for radio.
7minute Stumble is content from elsewhere. Blogs, videos or articles from

other websites and Christian blogs that talk about the things of 7minutes.net – faith, culture, relationships, social and technology trends, and a Christian faith perspective. More discipleship, in bite-sized chunks!
7minutes.net is short - but more than a snippet
The aim of 7minutes is to give you the guest something to think about, something to encourage, maybe amuse, refresh, challenge or inspire, but to do this in a few minutes – bite-sized chunks. Everything is designed to be read or listened to in a few minutes – less than 7 - and usually MUCH less than 7!
Ready for more? Try The Best of 7minutes!
Keep In Touch
Just 2 emails per month will inform you of all new articles on 7minutes. And its free - simply add your email address below.
7minutes won Blogger of the Year!
7minutes.net was awarded first place "Blogger of the Year" in the annual awards organised by Premier Christian Media - responsible for Christianity Magazine and Premier Radio in the UK.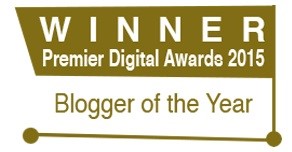 "Once again, the over 800 entries are evidence of the immense creativity and dedication present across the Church"
Premier Christianity Chief Operating Officer Kevin Bennett