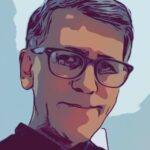 Hi and THANKS for taking time to stop by!
Please use this page to leave a note, ask a question or make a suggestion … or just say Hello. I always reply 🙂
If you are wondering what this website is about — check the About page or find out more about Chris Goswami.
Chris
To follow this blog
Simply insert your email address into the form at the bottom of this page and click Subscribe!
I only send out 1–2 emails a month (max) and I will never give out your email address.
To email me directly
If you are not keen on online forms, email me directly on chris@7minutes.net
To ask a question or make a suggestion