Tech trends 2023 — collected radio interviews
Note: several of the links below no longer function due to the media org changing URLs. Please try this page again at a later date when th issue has hopefully been corrected.
Technology is changing the way we interact with faith and church. But what does this mean for those of us unfamiliar with the tech world?
In these interviews, I explore how ChatGPT and AI (Artificial Intelligence) are being used to write songs, sermons and prayers, how your Smartphone may become an idol, and more No prior tech knowledge is assumed!
Has Covid changed the church forever?
Premier Christian Radio, April 2023 (45m inc songs and ads)
What do we gain and lose by the fact that many churches have stopped handing out Bibles and most Christians only use a Bible on their phone?
What do we gain and lose by the fact that many churches no longer have a visible plate collection?
And is online church really church?
A look at the post-Coid church and where its headed.
… giving should not be like just paying a bill … actually seeing a plate collection reminds us we are called to bring an offering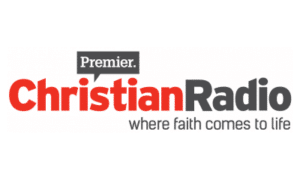 AI, ChatGPT, and is technology proceeding too fast for humankind?
Moody Radio USA, April 2023 (50m inc ads and call-in questions)
That was one of the call-in questions in this wide-ranging interview with Moody Radio USA. "Is the AI revolution really as as big as the printing press or the industrial revolution?" was another.
Begins with Chris's personal account of how …
… I seem to have become that minister guy who undersands technology!
AI ChatGPT … and is technology proceeding too fast for humankind?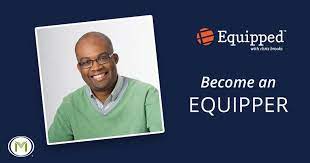 50 years on — how the mobile phone revolutionised our lives
TWR Radio, April 2023 (10m)
What did life look before the mobile phone age, and how have phones changed our lives since then? An overview of the pros and cons that come with smartphones – a reminder of why they have been so revolutionary in society and in faith.
The mobile-phone designed to help us talk is the reason we talk less
50th anniversary of the mobile phone on TWR Radio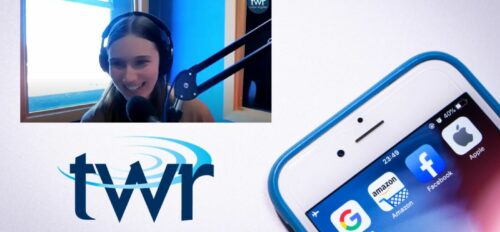 Is your smartphone competing with God?
Premier Christian Radio, Mar 2023 (11m)
Contains similar material to the above interview.
Mobile technology brings huge benefits to the church but is there a danger of phones, with their addictive nature, becoming an authority, even an idol, in our lives?
In your day to day decisions do you consult God as much as you consult your phone?
Could your Smartphone become an idol? Premier Radio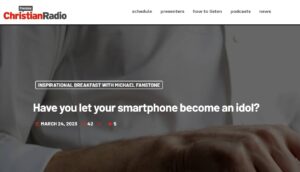 The next big step for ChatGPT
TWR Radio, Mar 2023 (10m)
A new version of ChatGPT now understands images … and humour!
God created man in His own image … but then man created machines in his own image
Chat GPT — what's next? — on Trans World Radio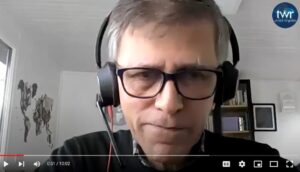 A conversation with Chick Yuill on ChatGPT
Premier Christian Radio, Feb 2023 (24m — starts at 16m in)
This interview includes Chris's personal testimony – from Krishna to Christ — up to 16m, followed by a discussion on ChatGPT: how does AI work? What's our response? Can God use AI?
Just as in the industrial revolution, when factories and machines replaced muscle-power, AI is now replacing brainpower
In conversation with Chick Yuill — Changing Room on Premier Radio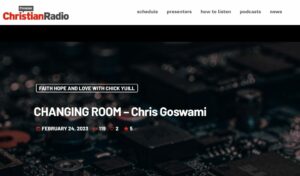 Tech trends 2023 inc ChatGPT
&

the James Webb Space Telescope

Premier Christian Radio, Feb 2023 (8 min)

What is Artificial intelligence? Could an AI bot become a person?
And, as a new telescope brings astonishing images of ancient galaxies from the creation of our universe, could this upend our understanding of Genesis 1?
We overestimate the impact of technology in the short-term, but greatly underestimate the impact of technology in the long term
Tech Trends 2023 on Premier Christian Radio