Why does God allow suffering — Alan
&

Penny
Alan and Penny's Story
"This is my body, broken for you" … These words take on a new meaning as Alan, now approaching 80, takes the tiniest breadcrumb and with just a finger, gently works it through the closed teeth of his dear wife, Penny, aged 76. To my eyes Penny remains motionless and silent. I hand him the communion wine cup which he takes with a small syringe and, with quiet words of explanation and encouragement, gently transfers a portion into Penny's motionless mouth. All this is administered with a tenderness and dedication that humbles those of us who actually thought we knew something about love …..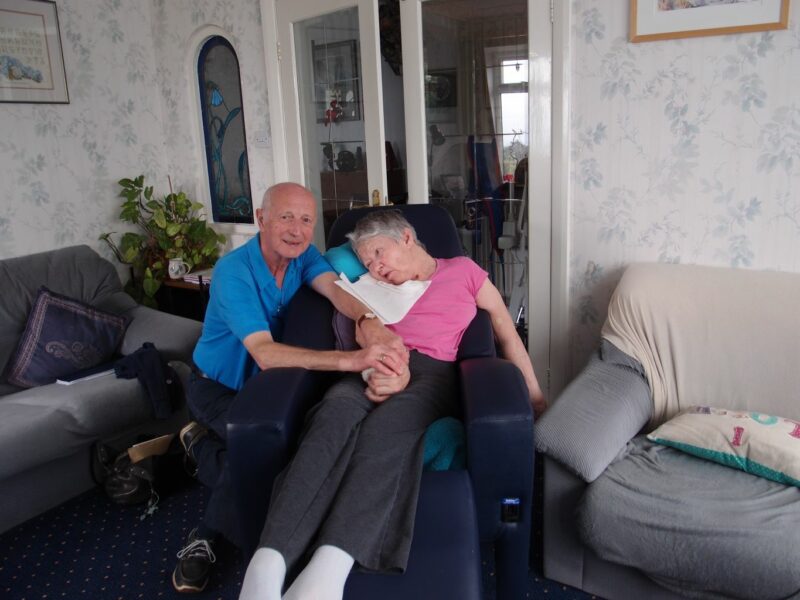 The scene is Alan and Penny's house, an elderly couple married for almost 44 years and we are holding a small communion service for the 3 of us. Penny suffers from advanced Corticobasal Degeneration – an extremely rare neurological disorder that systematically destroys all muscular movement, speech, and much comprehension. In Penny's case there is no movement or speech but she understands what is going on. The onset of the disease was both breath-taking and terrifying. As recently as spring 2008 the couple were walking the South African coastline. In 2010 they could walk with difficulty, but by February 2011 Penny needed full-time live-in care.
For Alan it is not the first time. He lost his first wife to leukaemia at the age of only 28.
It was not always like this
We meet again in a quiet pub on a summer's evening and Alan tells me more. In fact Penny was also a very talented driver and could have trained to drive to British Car Rally standard. She studied English at Sheffield University in her late thirties and held positions teaching Creative Writing at Leicester University and elsewhere. On one occasion she was asked to lead a course on the writer H. E. Bates in Northamptonshire UK only to discover on the first session that all of the students had known Bates personally – but she somehow retained her composure! For several years she was a Local Councillor for the Conservative Party and, after moving back to the north of England, became Development Officer for the Northwest Kidney Association – even observing a kidney transplant at close hand in order to ensure that her fund raising efforts were as informed as possible! Over the years, Penny held several positions as PA to a number of executives, and was Chair of Governors at a local school.

Favourite walks, Garden Route South Africa, Derwent Water Lake District UK, and close to home, Lathkill Dale in Derbyshire UK
Alan and Penny both became Christians during their fifties and were members of Poynton Baptist Church where Penny's speaking ministry began. She preached at numerous Baptist and Methodist churches right up to 2008 when her delivery became hesitant due to the illness. Penny had a passion for mentoring new Christians and would escort them through John's Gospel week by week. Alan and Penny joined our church in Bramhall UK around 2006 and quickly became known as an articulate, active and rather adventurous retired couple, with their long-haul destination trips and with Penny being a well-known local preacher.
Penny, by any measure, led her life to the full! An inspiring mix of private life and public service, working for her family, working for charity, and working for the church.


Favourite plants: wild orchids and Streptocarpus
Why?
The past 4 years for Alan and Penny have been a journey nobody should have to travel – and yet people do.
Alan explains, "I went through a period when the sheer enormity of Penny's illness became apparent and I really struggled with the question 'Lord why don't you heal Penny now?' At times I ended up somewhat demoralised, finding prayer difficult". But then he goes on, "I accept it is not His will at this time. There will be a day of healing and joy but not today. In this world, God has not promised any of us an easy ride – but He has promised to share it with us. My sole reason for remaining positive is the Lord. Without God in my life I would be sunk. I believe in the Lord more fervently today than I have ever done in my life".
"There is no conversation but I read the Bible to Penny several afternoons a week, and every day I tell her what's happening, what I've been doing. I know I can bring comfort to her even in this state. Penny can't speak but can make some sound and it's clear to me when she is feeling at peace".
What else helps Alan? Well some old-fashioned retail therapy, pottering about the garden, going out with a camera and appreciating the fantastic countryside, hopping onto the exercise bike, and engaging in conversation about Manchester United, to name a few.
What do YOU wish for in this world?
In my previous blog I made the point that God does not wish or cause suffering, and yet God can bring good from it. I spoke of the virtues of self-sacrifice, self-giving, and courage which sometimes emerge from the most oppressive situations. We see this clearly written all over Alan, in his dedication and in the incomparable love he shows to Penny. But perhaps it is best summarised by Alan's wish …. "My greatest wish is that I wouldn't die before Penny; so that I can make sure she has the best possible care".
Penny's life has been cut short in a way that most of us could not bear to see. As far as I can tell she has minimal comprehension and no communication. But this doesn't deter Alan. As we finish our drink and prepare to leave, Alan takes up his walnut walking stick which he has only recently varnished and comments "I've enjoyed tonight. I shall tell Penny all about it tomorrow" … Of course he would, what else would he do.
Why does God allow suffering? — discover more
In this short series we have attempted to shed light on this most difficult of questions. We discussed the theological question of suffering in Part I and the fact that this world is not as it should be. Our disfigured and suffering world is ultimately a result of this. Suffering can fall on any of us at any time, but we also posed the alternative question: Why do good things happen? In Part II we moved to the pastoral question of suffering ie How do we as communities of believers respond when one person suffers? We explained the very real fact that love inevitably exposes us to suffering and this is what God himself demonstrated on Good Friday – suffering for love. In this final part we simply told the story of one couple for whom these matters are neither theoretical nor theological, but real.
Part III — Alan and Penny's Story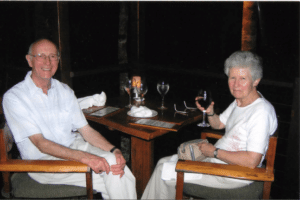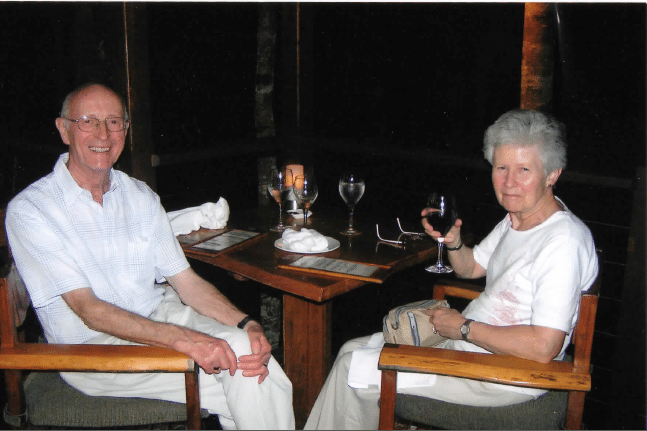 Note added, 2022: Alan and Penny have now both passed away, Alan only recently. RIP Alan and Penny